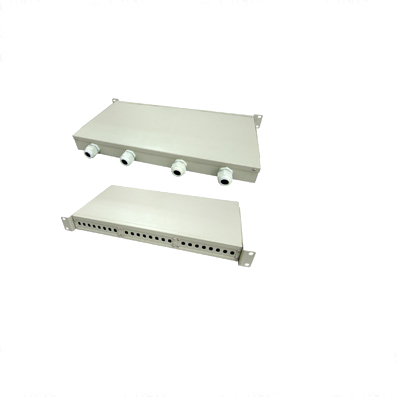 Product Model
SL05SPP24PR01
Description:Product model:SL05SPP24PR01 Description:FO Patch Panel SC Type 24 Port,19" 1U Rack Mounted Dimension ( L×W×H ):480mm×220mm×1U
Add List

Product Description
FEATURES:
1. The shell is high intensified & insulated material, thus having excellent mechanic
performance, It is solid and durable
2. Fiber in put:4
3. Adapters output:24
4. Strength core and shell was Insulation,add with grounding lead
5. Can be installed against wall
6. Full accessories for convenient operations
PERFORMANCE:
1. Excellent design
2. Maximum cores 24
3. Fiber lead 、grounding and perfect fixup 、 reliable
4. Pigtail fixup reliable and perfect protection
5. Apply to extensive field
6. Convenient operations and maintenance
Product parameters
SPECIFICATIONS:
1. Environment temperature:-25℃~+45℃
2. Relative humidity:≤85%(30℃)
3. Atmosphere pressure:70~106KPa
4. Insulated Resistance:≥2×10MΩ/500V(DC)
5. Intensity≤15KV(DC)/1minno spark-over and no flying arc
6. Fiber bending radium guaranteed more than 40mm:≥40mm
Application: It is applicable for straight-through connection and diverged
connection in aerial layout , duct and direct buried. It can protect fiber
connectors.
Ordering Information
ORDERING INFORMATION:
| | | | | |
| --- | --- | --- | --- | --- |
| Product Code | Description | Packaging | Carton Size | GW |
| SL05SPP24PR01 | FO Patch Panel SC Type 24 Port,19" 1U Rack Mounted | 10PCS | 49*40*70 cm | -- |