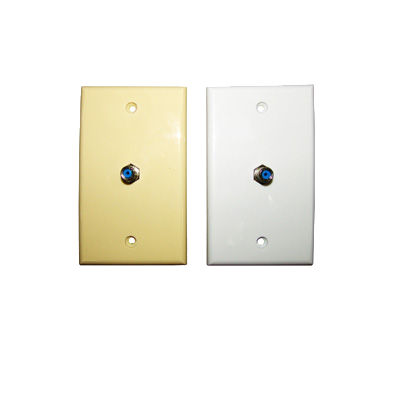 Description:Product model:SFP-901101 Description:Faceplate, 120 type, with F81 Connector
Add List

Product Description
The F81 connectors are used to connect (splice) coaxial cable RG6 and RG59. Compatible with all satellite delivery systems: DirecTV, DISH Network, and C-Band. Also compatible with all cable TV services.
- Superb, Digital broadband performance to 1GHz
- Ideal for use with all digital signals
- High return loss seizing mechanism provides low loss performance from DC~1GHz
- Precision machined threads and flat port interface provides maximum electromechanical bond
- Corr of trouble-free operation
Product parameters
INSTRUCTIONS:
1. Connect cables or coax antenna wire to the screw terminals on the backof the plate.
2. Strip 3" from outer jacket of telephone wire and 1/2" from each conductor.
3. Connect wires to modular jack using the Wire Cross Reference Chart.
4. Secure wall plate to junction box using screws provided.
5. Color of faceplate: White or Ivory
Ordering Information
| | | | | |
| --- | --- | --- | --- | --- |
| Product Code | Description | Packaging | Carton Size | GW |
| SFP-901101 | Faceplate, 120 type, with F81 Connector | 500 PCS | 42*41*53 cm | 16 kg |