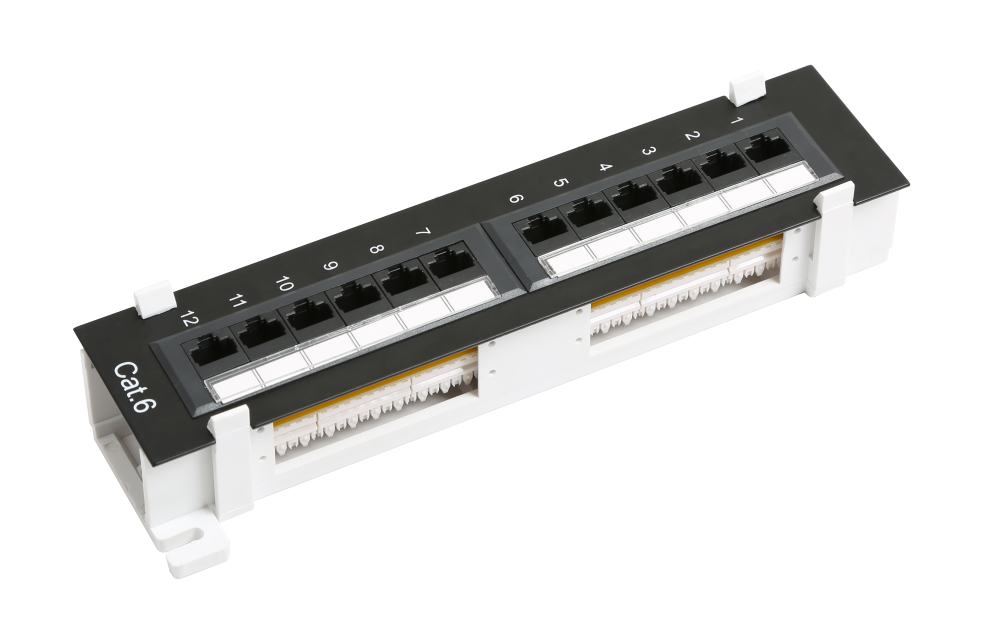 Description:Product model:SPP-6832A1 Description:UTP Cat.6/Cat.5e Patch Panel, 12 Port, Wall-Mounted type, 110 IDC
Add List

Product Description
Main Description of The Product:
1. 12 ports patch panel, Cat.6 UTP type. The strcture of each port of this patch
panel is same which makes sure that the performance of each port is consistent.
2. According to the standard of ISO/IEC 11801:2000 CLASS E and ANSI/TIA/EIA/568B.2-1
Cat.6 standard. T568A punching sequence and T568B punching sequence are both
compatible. Fitting for horizontal distribution in the equipments room and
equipments connecting.
3. Connecting: FCC port for Cat.6 UTP patch cord and IDC for horizontal distribution
cables.
4. Compatibility: Compatible for UTP Cat.6 or Cat.5e、 Cat.5 general cable
distribution systems.
5. IDC: 110 type or LSA type for your choice.
Product parameters
Technique Characteristics:

1. Entire high-carbon steel outer frame, with plastic powder cladding.
2. RJ45 jack frame material: PBT, golden plated phosphor bronze pins, Shielding shell
of the RJ45 jack: Brass housing with nicket-plated; IDC clip: Tinned phosphor
bronze pins.
3. Fitting for 22AWG/23AWG/24AWG cables, punching duration: 250 times. FCC ports
inserting duration: 750 times.
4. Cabling sequence: T568A & B.
5. Punching tool: Standard 110 tool for 110 IDC, Standard LSA tool for dual IDC.
6. Testing condition of transmitting capability: 250MHz
Ordering Information
| | | | | |
| --- | --- | --- | --- | --- |
| Product Code | Description | Packaging | Carton Size | GW |
| SPP-6832A1 | UTP Telephone Panel, 50 Port, LSA IDC | 20 PCS | 56*20*38 cm | 9.5 kg |