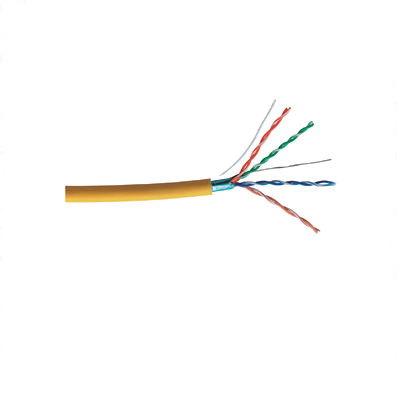 Description:Product model:SL5CBL2421 Description:LAN Cable FTP Cat.5e Solid, Yellow 305M/Box, LSZH, 24AWG
Add List

Product Description
PRODUCT DESCRIPTION
1. This kind of cable use bare copper to be the center conduction, with the
specification is 24AWG; PE is adopted to be the dielectric, Each pair of the
coppers is covered by polyester film and AL foil even outer. The earth wire is
installed between these two covers. The jacket is made of fireproof material, and
it's so significative to the Cat.5e communication.
2. This Cat.5e FTP cable is well conformed to the ISO/IEC, TIA/EIA and EN standards
and whose electrical characteristics are exceed the lastest ISO/IEC Cat.5e
standards.
3. LSZH: means "Low smoke zero halogen", which is the symbol of environmental
protection.
Product parameters
ELECTRICAL CHARACTERISTICS
1. Impedance: 100±15
2. Static electric capacity: max:17.1nf/kf
3. Resisitance : max:28.6/kf
4. Unbalance resisitance: max 5%
5. Unbalance capacity: max 330pF/100m
6. Roted communicate rate: 65%
PHYSICAL CHARACTERISTICS
1. Copper diameter: 24AWG
2. Outer diameter: 6.1mm
3. Shielding material: AL foil
4. Earth wire: No.24 bare copper
5. Weight: 11kg/kft
6. Minimum bend radius: O.D.*6~8
7. Maximum pulling tension: 10kg
8. Jacket material: LSZH
9. Roted temperature: -20~60℃
10. Packing: Carton
APPLICATION
1. 10/100/1000Mbps Ethernet;
2. 100VG-Anylan;
3. Token ring;
4. ATM 155/ATM 622 etc;
STANDARD
1. ISO/IEC-11801
2. EN-50173
3. TIA/EIA-568-A-5
Ordering Information
| | | | | |
| --- | --- | --- | --- | --- |
| Product Code | Description | Packaging | Carton Size | GW |
| SL5CBL2421 | LAN Cable FTP Cat.5e Solid, Yellow, LSZH, 24AWG | 305 m/box | 37*37*22 cm | 12 kg |